'An extracted tooth, Chineseprint trousers and a navel ring...'
On Thursday evening, Khorshed Pundole and Lavesh Jagasia played hosts to a first-of-its-kind art exhibition that showcased serigraph prints of some of artist Jogen Chowdhury's works. Anjana Mehra, an expert in printing, immersed herself in a lengthy conversation about the printing technique with Jehangir Sabavala. Sunil Padwal, making a style statement as usual, chatted with Krishnamachari Bose about his recent visit to London. Samir Mondal, Jenny Bhatt (who confessed to being in a blue mood since morning because she missed her meditation), Brinda Chudasama-Miller (making quite a statement in her Chineseprint trousers, that her daughters insisted her to wear to look cool) and Mehli Gobhai were some of the other artits present.
Ashok Salian
was on a hugging spree; he was seen ribbing Chez Shetty about the blue navel ring that she sported.
HOLIDAY'S OVER! It seemed as though everybody who'd trooped in had returned from a vacation. Pravina and Jamal Mecklai were raving about their visit to Istanbul and London, while Palak Sheth (who'd come in sans husband Sameer since "he's rolling in pain due to having his wisdom tooth extracted in the morning") chatted about their trip to Germany where "the football fever has to be experienced to be believed!"
UNUSUAL SUSPECTS: There also were some unusual guests who trooped in, beginning with Pritish Nandy, who was overheard talking about Mallika Sherawat: "She's positively hot!" he said. Rohit Gandhi had flown in straight from Delhi especially for the show despite being "buried under a mountain of work."
Times of India - Mumbai
01 July 2006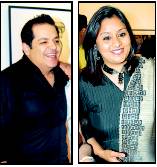 BLACK OR WHITE: Rohit Gandhi and Palak Sheth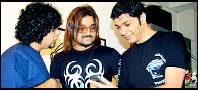 CHECK 'EM OUT: Arzaan Khambatta, Sunil Padwal and Lavesh Jagasia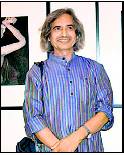 Jogen Chowdhury poses for the camera