Art Prints - A Brief History
What Is a Print?
A print is a work of art made up of ink on paper and existing in multiple examples. It is created not by drawing on paper with an ink-filled pen or other instrument, but through an indirect transfer process. The artistbegins by drawing a composition on another surface. The transfer occurs when a sheet of paper, placed in contact with the drawn surface, is run through a printing press.
Among the advantages of making an artwork in this way is that numerous "impressions" can be made, since new pieces of paper can be sent through the press in the same way. The artist decides how many to make and that total number of impressions is called an "edition." They are then signed and numbered by the artist. Since more than one example exists, many people can own these prints.
Various printing methods have evolved over the long history of the medium. The four best-known techniques are woodcut, etching, lithography, and screenprint. Depending on what an artist wants to express in a particular work, one or another technique is chosen for its distinct visual effects. Sincethese techniques are sometimes complicated to perform, the assistance of an expert printer is oftenrequired. In this lithograph byToulouse-Lautrec, theprinter is shown working the press while one of theartist's friends, the celebrated dancer Jane Avril, examines a new print.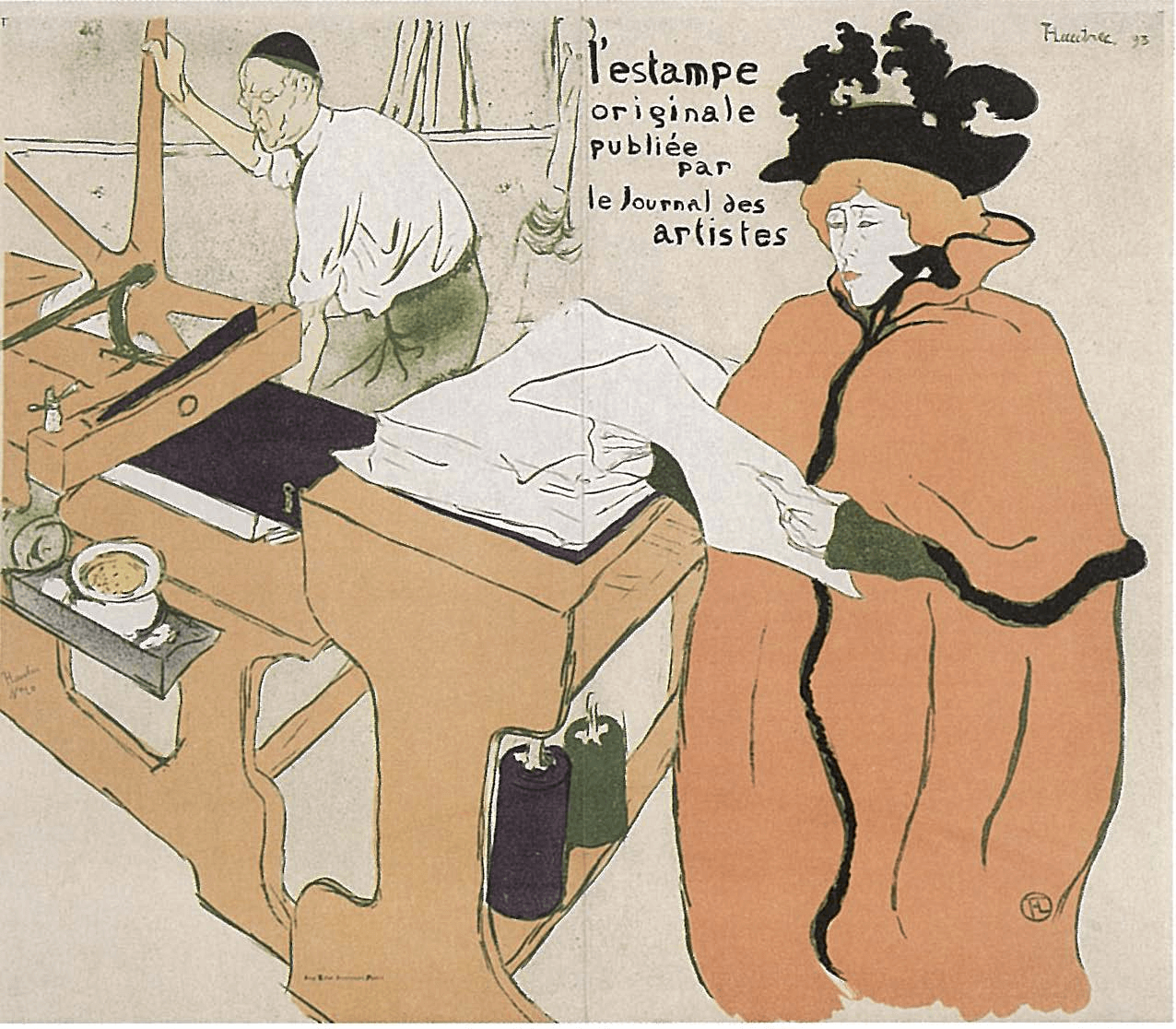 Prints and Illustrated Books Collection
The prints and illustrated books collection constitutes one of six curatorial collections in The Museum of Modern Art as a whole. The others are painting and sculpture, drawings, photography, architecture and design, and film and video.
The department was established in the 1940s by Abby Aldrich Rockefeller, one of the Museum's founders. A print enthusiast who believed in the importance of this medium for the Museum, Mrs. Rockefeller donated her entire collection of prints in 1940. In the words of the Museum's founding director Alfred H. Barr, Jr., "Mrs. Rockefeller, with gentle insistence, argued for the inclusion of a print room, reminding her colleagues that prints, because they were ... avai I able on a democratic scale, should hold a place of special importance in a museum concerned with encouraging the widespread collecting of original works of art!'
Through the generosity of many donors and patrons over the years, the Museum's prints and illustrated books collection now comprises over 40,000 works, ranging in date from the 1880s to the present day. Both artists and art movements are found in depth. For example, Louise Bourgeois, Jasper Johns, Henri Matisse, Joan Miro, and Edvard Munch are some artists who are especially well represented. Works by Pablo Picasso, perhaps the most celebrated artist of the modern period, number over three-hundred prints and eighty illustrated books. Examples of Russian Constructivism, German Expressionism, and Pop art, among other movements, are also collected extensively.
A gallery on the Museum's third floor is devoted to exhibiting works from this collection and allows for the display of approximately one hundred prints and illustrated books at any one time. The remainder of the collection-in fact, the vast majority of it-is kept in a storage area adjacent to the offices of the print curators. This curatorial staff, with specialization in the field, provides for the care and safety of the collection, acquires new prints and illustrated books, conducts research, and organizes exhibitions.
The department also maintains a study center which is open to the public by appointment on Monday, Wednesday, and Friday afternoons. Using a system similar to that of a reference library, the study center provides a listing of all prints and illustrated books and allows visitors the opportunity to request and view those that are kept in the storage area. Relevant books, catalogues, and other documentary materials specifically related to prints and illustrated books are also available for study. This facility is used by scholars, collectors, students, and others interested in the field.