'A signed Raza for Rs 60K'
Georgina Maddox
Perhaps the biggest twinge of regret art lovers felt when they visited the recentJehangir Sabavala retrospective at the National Gallery of Modern Art, Mumbai, or the Husain-Ram Kumar show at Jehangir Art Gallery was that none of the works would ever adorn their houses.
Not only because they could never afford them, but because the works weren't up for sale and were already part of someone else's unattainable collection.
Now imagine picking up one of those Sabavalas, a Jogen Chowdhury or a Raza for anything between Rs 11,000 and Rs 60,000 as a signed limited edition serigraph. Well, that's as close to those original works as you'll ever get in this lifetime.
"Serigraphy, like woodcuts, linocuts and lithography, falls under the category of printmaking, an accepted art form the world over,'' says art collector-turned-dealer Lavesh Jagasia, the singular force behind the soon-to-be-launched Serigraphy Studio, who currently works out of a quaint office in Bandra.
Jagasia plans to launch with a Jogen Chowdhury serigraphy show in August 2006. The online version of this business is already launched and Jagasia has already sold a Raza serigraphy worth Rs 60,000.
"These are special prints, where each colour is printed separately by hand,'' he says. "It's interesting since it will never be like the original painting. It will be signed, and thus in one way serigraphs are their own originals.'
In art jargon, these works of art are 'multiple originals'. Not to be confused with an offset print that is a mechanically produced, flat pictorial representation, a serigraphy has a character of its own: a raised texture and colours that are slightly brighter than the original work. Serigraphs are deemed works of art by the likes of the British Standard Institute and Museum of Modern Art, San Francisco.
The way it works, Jagasia is in touch with a company in the UK (he calls it his trade secret and isn't keen to give out names) which supplies him with all the raw material to make the prints. The artist concerned then approves the final works and signs a limited edition of 150 works.
"At the Serigraphy Studio, we intend to open up the art mart and make it more accessible by working with the artist to create these limited editions of prints,' says Jagasia.
So while auction houses are driving the price of original art works through the roof, prints cater to that segment of the market whose aspiration to acquire art is on the rise. "I had this segment in mind when I started out, but I was also surprised to see that a lot of people who could actually afford original art work wanted the prints,'' says Jagasia. "Sometimes you may have spent a lot on a house and not have the money to buy an original art work for your interiors. That's where a good serigraph comes in.'
What do the artists feel about this? "I am very happy about the serigraphy studio since this is the first time in my life that an artist's works are being reproduced with such high quality,' says Paritosh Sen.
"Many more people will be able to collect my works now, like in most European countries where academics and students decorate their walls with prints of great masters. Serigraphy brings art within the reach of a much larger number of people.'
Jehangir Sabavala too is delighted. "Jagasia is using foreign techniques of traditional screen printing with watermark paper and creating a whole portfolio for each artist, not just a one-off print,'' he says. "It will popularise art. I will sit with him after the Delhi show to help him select my best works.'
Times of India - The Review, Delhi
04 Dec 2005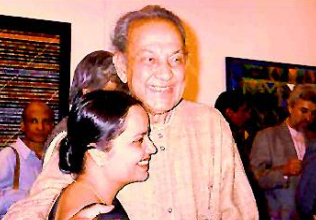 S H Raza with Kathak dancer Prerana Shrimali